Awards
ASIA Lifetime Achievement Award
The 2018 ASIA Lifetime Achievement Award will be co-awarded to Dr. Mary Bartlett Bunge and the late Dr. Richard P. Bunge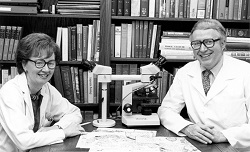 Richard P. Bunge, M.D. spent his lifetime at the forefront of research efforts to understand and improve the processes of repair in the nervous system. While a medical student, he discovered that myelin could be broken down and then reformed in the adult mammalian spinal cord, a revolutionary idea in the 1950s. This discovery initiated his lifelong love of research and abandonment of his goal to become a physician. This work led to the discovery, with Dr. Mary Bunge, of the mechanism of CNS myelination and the demonstration of the connections between forming myelin and oligodendrocytes. While still a young investigator Dr. Bunge and his colleagues, primarily Dr. Patrick Wood, developed a cell culture system in which myelination could be studied systematically and fundamental discoveries elucidating the processes underlying Schwann cell-neuron interactions could be made. He proposed in 1975 that cellular grafts, particularly of Schwann cells, could be prepared in tissue culture and then transplanted to enhance repair in the CNS. Accordingly, he pioneered studies of the biology of adult human Schwann cells as a prelude to possible autotransplantation into sites of spinal cord injury in the human. In 1990, he initiated an extensive and detailed characterization of the pathology of human spinal cord injury that provided novel and fundamental insights into the nature of that injury, including demyelination and axonal degeneration.
After obtaining his M.D. degree from the University of Wisconsin Medical School in 1960, Dr. Bunge went to Columbia University to learn the technique of nerve tissue culture with one of its founders, Dr. Margaret R. Murray. He then held faculty appointments in Anatomy at Columbia University College of Physicians and Surgeons from 1962 to 1970, and in Anatomy and Neurobiology at Washington University School of Medicine from 1970 to 1988, before joining the faculty at the Leonard M. Miller School of Medicine at the University of Miami. He held the Kinetic Concepts Distinguished Chair in Neurological Surgery and was Scientific Director of the Miami Project to Cure Paralysis. Throughout his distinguished career he published 153 peer-reviewed manuscripts in high quality neuroscience journals and was awarded an impressive array of grants from the NIH. Dr. Bunge received Javits Neuroscience Investigator Awards from the NIH, the Friedrich von Rechlinghausen Award for the Advancement of Medical Sciences in Neurofibromatosis, the Gordon Conference on Myelin Chairman Award, and the prestigious Wakeman Award for his pioneering work in tissue culture and cell biology of fetal cells, transplantation, and detailed descriptions of human spinal cord injury. He was named a Heiner Sell Memorial Lecturer by ASIA, a lecture he never gave due to his untimely death in 1996. Upon his passing an edition of Experimental Neurology was dedicated in his memory, in which the Section Editors Drs. Jerry Silver and Scott Whittamore wrote, "Those of us who work in these areas owe a great debt of gratitude to Richard Bunge and his legacy of scientific achievements."
Mary Bartlett Bunge, Ph.D., is currently Professor of Cell Biology, Neurological Surgery, and Neurology and the Christine E. Lynn Distinguished Professor of Neuroscience at the Miller School of Medicine, working in The Miami Project to Cure Paralysis. Dr. Bunge earned her M.S. degree in Medical Physiology under Thesis advisor, R.F. Schilling, at the University of Wisconsin Medical School (1955), and her Ph.D. in Zoology-Cytology with advisor, Dr. Hans Ris (1960). She was an NINDB Post-Doctoral Fellow (1960-62) in the Department of Anatomy (Dr. George D. Pappas) and Laboratory for Cell Physiology (Dr. Margaret R. Murray) at Columbia University College of Physicians and Surgeons.
Pursuing an overall goal of promoting nervous system repair, Dr. Mary Bunge has been a pioneer in identifying the structure and function of cells that form myelin and, more recently, in developing a new spinal cord injury model and novel combination strategies to improve repair of the injured spinal cord. Her laboratory currently conducts preclinical studies aimed at developing neuroprotective and neuro-regenerative therapies for spinal cord injuries. These therapies include the transplantation of genetically modified Schwann cells to facilitate regeneration in damaged spinal cords. The Bunge work on the efficacy of transplanted Schwann cells in spinal cord repair contributed to gaining approval from the FDA in 2012 for initiating clinical trial testing of these cells in spinal cord injured subjects.
Like her collaborator and partner, Dr. Mary Bunge received the Wakeman Award (1996) for her seminal contributions to the field of spinal cord injury repair, and also the Christopher Reeve Research Medal for Spinal Cord Repair (2001) and a Javits Neuroscience Investigator Award for 1998-2005, and was the first recipient of the Mika Salpeter Women in Neuroscience Lifetime Achievement Award (2000). She has also received the Lois Pope LIFE International Research Award (2005). In 2013, she was elected to the National Academy of Medicine. At the University of Miami, she was named the Distinguished Faculty Scholar for 2012 and was inducted in 2005 into Iron Arrow, the highest honor at the University. Dr. Bunge has mentored 15 doctoral students and 32 post-doctoral fellows. Mentoring trainees has been an important priority. As a member (1993-2007) and Chair of the Development of Women's Careers in Neuroscience Committee, Society for Neuroscience (Sven, 1993-2007), she instituted a variety of mentoring activities that has led recently to a mentoring luncheon held every year at the annual SfN meeting. Dr. Bunge founded the Mary Bartlett Bunge Distinguished Women in Cell Biology Lecture Series that has brought an outstanding lecture and mentoring sessions to the University community every year since 2005.
Theirs was a true and productive partnership, not only in their personal lives but also as a research team. As Mary Bunge often has said, "We completed each other." Their shared goal of applying the basic science findings to clinical situations helped drive the progression of "bench" studies of Schwann cell biology to the "bedside" testing of autologous Schwann cell transplantation in spinal cord injured subjects in the Miami Project. To quote Mary Bunge again, "This has been such an exciting, fruitful and especially fulfilling journey".
____________________________________________________________________________________________________________________________________________________________________________________
The Distinguished G. Heiner Sell Lectureship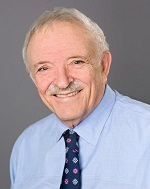 The Distinguished G. Heiner Sell Lectureship is being presented at the 2018 ASIA Annual Conference by William Zev Rymer, MD, PhD. Dr. Rymer is Director of the Single Motor Unit Laboratory at the Shirley Ryan AbilityLab (formerly the Rehabilitation Institute of Chicago, RIC). He is a Professor in the Departments of Physiology, Physical Medicine and Rehabilitation, and Biomedical Engineering, at the Northwestern University Feinberg School of Medicine and in the McCormick School of Engineering and Applied Science (MEAS). Dr. Rymer also holds an appointment as a Research Scientist at the Hines VA. Over the past four decades, Zev Rymer has been widely recognized as a leader in rehabilitation research. His research spans topics from basic mechanisms of pathophysiology after SCI to clinical issues such as spasticity and engineering approaches to neurological rehabilitation.
Dr. Rymer's research program has received funding from governmental and non-governmental organizations, including PVA, the Neilsen Foundation, the VA, and NIDILRR. Notably here, Dr. Rymer has been continually funded since 1993 by the NIH in research topics directly relevant to SCI. Some specific examples of his contributions include studies of spinal reflex mechanisms in preclinical models, where Dr. Rymer showed novel responses of golgi tendon organs during activated reflex and helped to identify mechanoreceptors in free nerve endings as a source of inhibition of muscle strength. In clinical studies, Dr. Rymer most recently pioneered the study of potential therapeutic effects of acute intermittent hypoxia, combined with over ground and treadmill based rehabilitation programs. His current bioengineering studies include developing evidenced based approaches to quantify time and effort devoted to use of robotic and computer based interventions in rehabilitation, and developing new technologies to advance mobility and reintegration after SCI or stroke. His Feinberg faculty profile provides a link to his more than 300 publications, which have received more than 9000 citations.
Zev Rymer received his MD with honors at Melbourne University Medical School (1962) and his PhD in Neuroscience (1973) at Monash University, in Australia. After completing his residency at Prince Henry's Hospital, part of Monash University Department of Medicine (1967), he was boarded in Internal Medicine (FRACP). He performed postdoctoral training at the NIH with Dr. Robert Burke in the Lab of Neural Control and with James Houk, MD and Vernon Mountcastle, MD in the Department of Physiology at Johns Hopkins University Medical School. He began his independent academic career as an assistant professor of Neurosurgery and Physiology at SUNY Syracuse (1976) and then moved to Northwestern University Medical and Dental Schools (1978) in Chicago, where he rose through the academic ranks to full Professor (1987) at what is now known as the Feinberg School of Medicine. Prior to his current role at SRALab, Dr. Rymer has served in many academic leadership roles at Feinberg and RIC, including as John G. Searle Chair of Rehabilitation Research (1989-2014), Vice President for Research (2008-2014), Director of the Sensory Motor Performance Program (1987-2017).

____________________________________________________________________________________________________________________________________________________________________________________
Neilsen Foundation Allied Health Professional Research Award of ASIA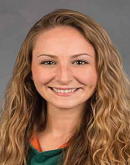 Dr. Anne Palermo of the University of Miami has been named as the 2018 Neilsen-ASIA Research Award recipient for her study titled "Seated Trunk Stability and Orthostatic Tolerance in SCI: Targeting the Diaphragm."
The Neilsen Foundation Allied Health Professional Research Award of ASIA is a one year award of $25,000 to a clinician at the Master's or Clinical Doctorate level. The purpose of the award is to encourage clinicians in the field of SCI to incorporate an element of research into their professional practice.
Dr. Palermo received her Bachelors in Biochemistry from Niagara University and continued on to gain her Clinical Doctorate in Physical Therapy from the University of Miami. Currently, Annie is working as a licensed physical therapist at the University of Miami Hospital in the acute setting and as a research therapist at the Miami Project to Cure Paralysis. Additionally, Annie is pursuing her PhD in Physical Therapy through the University of Miami's Department of Physical Therapy in the Miller School of Medicine under her mentor Dr. Lawrence Cahalin, Ph.D., PT, CCS. Throughout her scholastic and professional work, Annie has been honored with the Mary McMillan Scholarship Award, Florence P. Kendall Scholarship, and a Promotion of Doctoral Studies Scholarship (PODS I), from the Foundation of Physical Therapy.
_____________________________________________________________________________________________________________________________________________________________________________________
Apple Award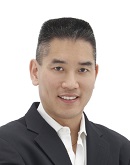 Brian K. Kwon, MD, Professor in the Department of Orthopaedics at the University of British Columbia, the Canada Research Chair in Spinal Cord Injury, and the Dvorak Chair in Spine Trauma, is the recipient of ASIA's 2018 Apple Award. His paper titled "Spinal cord perfusion pressure predicts neurologic recovery in acute spinal cord injury" appeared in the American Academy of Neurology in October 2017
The Apple Award for excellence in publishing in spinal cord injury rehabilitation literature is presented annually during the ASIA scientific meeting in recognition of the best published paper by a clinician or researcher in the preceding calendar year. The Apple Award is named in honor of David F. Apple, Jr., MD, founding member and Past President of the American Spinal Injury Association (ASIA). The award is a collaboration of three entities that were critically important to Dr. Apple during his long career in orthopaedic surgery at the Shepherd Center in Atlanta, Georgia, where he served as founding medical director for 30 years. Dr. Apple is currently emeritus medical director of the journal "Topics in Spinal Cord Injury Rehabilitation" of which he was Editor-in-Chief from 1994-2011.
Dr. Kwon is an attending spine surgeon at Vancouver General Hospital, a Level 1 trauma center and regional referral center for spinal cord injuries (SCI). He is also a research scientist at the International Collaboration on Repair Discoveries (ICORD) and serves as Chair of the SCI Cure Committee for the Rick Hansen Institute. His primary clinical and scientific research focus is on spine trauma and spinal cord injury (SCI). Dr. Kwon has led the development of a novel large animal model of SCI and is utilizing this for both bench-to-bedside and bedside-back-to-bench translational studies. He has also led initiatives to establish a framework for how promising therapies for SCI should be evaluated in the laboratory setting prior to translation into human patients.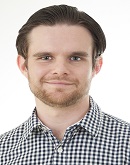 Co-Senior author on the paper "Spinal cord perfusion pressure predicts neurologic recovery in acute spinal cord injury" is Dr. Chris West, Assistant Professor and Principal Investigator at the International Collaboration on Repair Discoveries, a UBC Faculty of Medicine research center that specializes in spinal cord injury. Dr. West is an integrative physiologist with a primary focus on how the cardiovascular system responds to spinal cord injury. His research traverses the discovery science-clinical spectrum. At the discovery science level, he investigates the mechanisms that underpin the cardiac adaptations to spinal cord injury. At the clinical level, he works with patients and athletes with spinal cord injury to investigate how the cardiovascular system can be optimized to offset cardiovascular disease risk.
Co-authors: Jordan W. Squair, MSc; Lise M. Bélanger, RN, MSN; Angela Tsang, RN; Leanna Ritchie, RN; Jean-Marc Mac-Thiong, MD, PhD, FRCSC; Stefan Parent, MD, PhD, FRCSC; Sean Christie, MD, PhD, FRCSC; Christopher Bailey, MD, MSc, FRCSC; Sanjay Dhall, MD; John Street, MD, PhD; Tamir Ailon, MD, MPH, FRCSC; Scott Paquette, MD, MEd, FRCSC; Nicolas Dea, MD, FRCSC; Charles G. Fisher, MD, MPH, FRCSC; Marcel F. Dvorak, MD, FRCSC.
_____________________________________________________________________________________________________________________________________________________________________________________

Vogel Award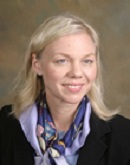 The 2018 Vogel Award Recipient is Dr. Joanne Baerg for a paper titled "Cervical spine imaging for young children with inflicted trauma: Expanding the injury pattern". The paper appeared in the Journal of Pediatric Surgery in May, 2017. Co-authors are Arul S. Thirumoorthi, Rosemary Vannix, Asma Taha, Amy Young and Alexander Zouros.
Dr. Baerg is a Professor of Surgery at Loma Linda University and a Pediatric Surgeon at Loma Linda University Medical Center. She graduated from University of British Columbia Faculty of Medicine in 1990 and has been in practice for 28 years.
The Vogel Award is given for the best paper by a clinician or researcher involved in pediatric SCI rehabilitation in the preceding calendar year. The award honors Lawrence C. Vogel, MD, a recognized world expert on SCI in children. For the past 30 years, Dr. Vogel has served as the Medical Director of the SCI Program at Shriners Hospitals for Children in Chicago. He is a past president of ASIA.
Content
You Must Be Logged In

This Reminders tab will display for your scheduled lectures 15 minutes before start time and for new messages waiting.
Top