Things To Do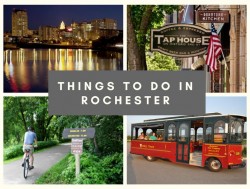 Rochester is Minnesota's third largest city. Rochester is best known for being the birthplace of renowned healthcare organization the Mayo Clinic. On the outskirts, Mayowood the 1911 estate of clinic co-founder Dr. Charles Mayo. (President's Reception) Rochester is filled with outdoor and indoor things to do. Rochester is only an hour's drive south of Minneapolis, and is located along-side the Zumbro River with plenty of trails and parks just steps from the Mayo Civic Center (location of the meeting). This conference is situated in the heart of downtown Rochester so make sure you take time to browse or shop the local boutiques, head to a brewery for a pint, or check out the budding music scene. From local burger joints serving up a Juicy Lucy to fine dining, modern art to historical trolley tours, or yoga to golf, there is something for everyone (and all within walking distance).

Content
You Must Be Logged In

This Reminders tab will display for your scheduled lectures 15 minutes before start time and for new messages waiting.
Top